Cade Metz reminds us that Google is the most virtuous collection of people on Earth in this love-letter in The Register
"This side of the argument said: We were pretty well known on the internet. We were pretty popular. We had some funds available. We could essentially buy prioritization that would ensure we would be the search engine used by everybody. We would come out fine – a non-neutral world would be a good world for us."

But then that Google idealism kicked in.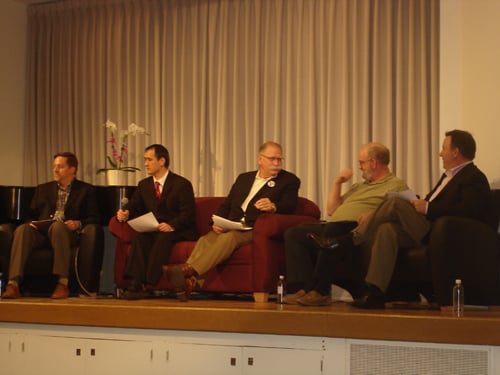 Google's Richard Whitt, George Ou, Data Foundry's Ronald Yokubaitis, Richard Bennett, Vuze's Jay Monahan
"The other side said: We were a company that was born and raised on innovation. We were born from the internet here in Silicon Valley. We were able to take for granted the fact that we could innovate on the network without permission from anybody – any broadband company, any potential gatekeeper of the network trying to tell us what to do. We could bring innovation directly to the users and let them sort out exactly what they wanted and what they didn't want. Why would we muck with that? Why would we create haves and have nots on the internet?"

Naturally, Larry, Sergey, and the crew went the second option.
And clearly, Google had no commercial motive at all for its position.
What really happened is this: Google has invested hundreds of millions of dollars in server farms to put its content, chiefly YouTube, in an Internet fast lane, and it fought for the first incarnation of net neutrality regulations in order to protect its high-priority access to your ISP. In one server farm alone, they're got 400,000 CPUs.
Now that we're in a second phase that's all about empowering P2P, Google has been much less vocal, because it can only lose in this fight. Good P2P takes Google out of the video game, as there's no way for them to insert adds in P2P streams. So this is why they want P2P to suck. The new tools will simply try to convince consumers to stick with Google and leave that raunchy old P2P to the pirates.
The most amazing moment of the day came when Google's Whitt attacked ISPs as "monopolies" when none has more than a 30% national market share. Later in the day, Yahoo announced it was outsourcing its search operations to Google, which gives them a 90% share.
But Google, you see, is a monopoly who hides behind its "don't be evil" slogan, so whatever they want to say or do has to be cool with the rest of us.